Rédac' chef adjoint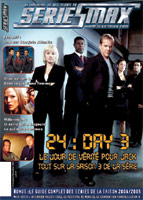 Inscription: 02 Juin 2003 04:10
Messages: 468
Localisation: Metz
Au moins l'avantage dans ANGEL c'est qu'il n'y a pas d'histoire d'amourette à 2 balles comme dans les saisons 4, 5 & 6 de BUFFY, et lorsqu'il y en a dans ANGEL c'est pour servir l'intrigue principale (Darla par ex) et non pour faire du "remplissage" comme dans la "série mère"... Maitenant le défaut dans ANGEL c'est qu'on a l'impression qu'ils n'ont jamais sut quoi en faire : les directions de la série changeant de saison en saison sans que l'on voye réellement où ils veulent en venir... Mais pour ma part ça reste une très bonne série qui a son charme et qui a sut s'imposer hors de BUFFY.
_________________
Lecteurs de SERIES MAX : on a besoin de votre avis !!!
nouvel(le) arrivant(e)
j'ai bien suivi la série depuis le départ, mais je reconnais que les aléas de la diffusion made in tf1 et les censures ne m'ont pas incitée à insister non plus. cela dit, il y a de bonnes choses aussi dans angel, des moments très drôles (cf l'apparition de spike à la recherche d'une bague), les disputes entre doyle et cordy...

malgré tout, je trouve qu'il manque quand même qq chose...

cyan
Rédac' chef adjoint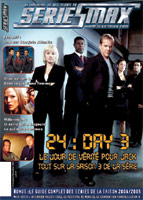 Inscription: 02 Juin 2003 04:10
Messages: 468
Localisation: Metz
ANGEL n'est pas mort
Bonne nouvelle lue sur MEDIASCHARKS le 24/04 :

First ANGEL TV Movie May Hit in September
By Marcus Ferrell | (16029 Reads )

Scooper 'Daybill' returned with some news from the ANGEL front:

The WB is working on a new stand-alone telemovie, ANGEL, to air tentatively in September. The first two-hour pic is going to essentially launch the series as a sequence of films - different villain, different storyline, each one.

The first is going to tie-in with the events of the series final episode. The season ender is going to go out with a huge cliffhanger, and we'll have to wait till September to find out how it all ends.

Eliza Dushku is in talks to appear in the telemovies, as Faith, the vampire slayer. Her series TRU CALLING isn't going to be picked up for a second season, so I assume she jumped at it.

There's no titles for these Angel films yet, but all six - bi-monthly over a period of a year - will be something like ANGEL: OUTLAWED, or ANGEL: DOMINION. You get the pic.

What's interesting is, Joss Whedon's not going to have much to do with the first couple. He's apparently doing a movie for Universal. Wonder how that's going to go down with fans?

I guess that big truck - which i again saw last week driving around - did something to save this show.

How valid is this report? Well, Daybill hasn't failed us before, but September seems like too quick a turnaround for a tv movie, although not altogether impossible. It's possible that the first could be filmed after a short break, but I would think that the principal cast would want to get away from these characters for a while.

The finale Daybill speaks of also lines up with an April 17 report from our friends over at Spoiler Slayer, where they said that the series will likely end on a cliffhanger.

Joss Whedon's lack of involvement - I wouldn't be surprised. The movie Daybill speaks of is, of course, the film version of FIREFLY, which is being fasttracked at Universal. However, if these movies go forward, I have no doubt that some of the ANGEL/Mutant Enemy regulars will return.

Updated: The boys and girls over at Whedonesque had a good point that contradicts the report (that I, I'm ashamed to say, didn't think of) - some places have already reported that TRU CALLING will be picked up for another season, even though networks seem to like to mess with executive producers' minds and tell them they're being renewed when they haven't been. Regardless, remember that this report is a rumor. Take nothing as absolute fact until you hear it from the Frog.

If you are an insider and you would like to graciously share some information with us, please don't hesitate to contact us.
_________________
Lecteurs de SERIES MAX : on a besoin de votre avis !!!
Rédac' chef adjoint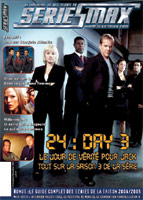 Inscription: 02 Juin 2003 04:10
Messages: 468
Localisation: Metz
SPOILERS :



LOS ANGELES (Zap2it.com) -

As "Angel" nears its May 19 finale, it's looking like Joss Whedon will stick to his vow not to clutter up the last few episodes with characters from "Buffy the Vampire Slayer."
That's not to say, however, that Buffy is not a presence on the show. In fact, one of the final episodes will revolve around Angel and Spike trying to rescue her from an old foe.

"The Girl in Question," the episode scheduled for Wednesday, May 5, will find the two soul-cursed vampires (David Boreanaz and James Marsters) heading for Rome at the behest of Buffy cohort Andrew (Tom Lenk). They're on a mission to rescue the slayer from The Immortal, a nemesis from their past.

SCROLL DOWN TO READ MORE
--------------------------------------------------------------------------------

ADVERTISEMENT

Darla (Julie Benz) and Drusilla (Juliet Landau) appear in flashback scenes, but Buffy herself (Sarah Michelle Gellar) doesn't show up in the episode. Whedon has said that he doesn't want to overshadow "Angel's" core characters by having Gellar or other "Buffy" stars around for the finale.
The WB is somewhat more cryptic about the final two episodes, saying only that Angel and Co. will battle Wolfram & Hart's mysterious Senior Partners and someone will die. The network also says that Connor (Vincent Kartheiser) will appear in the series finale on May 19, but the character's role is left undefined.
_________________
Lecteurs de SERIES MAX : on a besoin de votre avis !!!